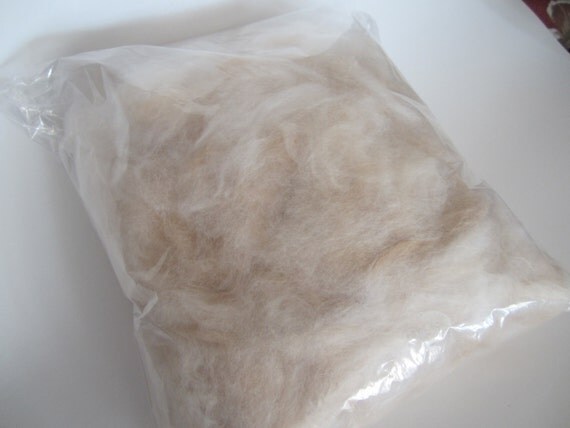 I have some more lovely fiber available in my Etsy shop right now! This lovely fiber is amazingly cloud soft and so beautiful. It is from my purebred French Angora who is a beautiful Fawn color. So the fiber has a lovely soft tan and cream coloring to it.

It is very lovely and not only for fiber artists. While it is wonderful for fiber projects and spinning, it could also be used for many other crafts to. From scrap booking, to jewelry, and many more unique and creative projects!

Angora wool is said to be about 8 times warmer then sheep wool and is actually softer then cashmere! And because it is such a light weight fiber you can have the warmth without the weight. And if you are looking to spin yarn that has the fluffy "halo look" French Angora should be just what you are looking for.

I only sell lovely hand plucked wool. I do not sell fiber that has been brushed off the rabbit and I do not sell sheared/cut off wool. My fiber is hand plucked when they naturally lose their current coat for the best fiber possible. This listing is for approximately one full oz. of fawn fiber. Although right now I do have two 1oz. packages available.
For more info
click here
to see my listing on Etsy.