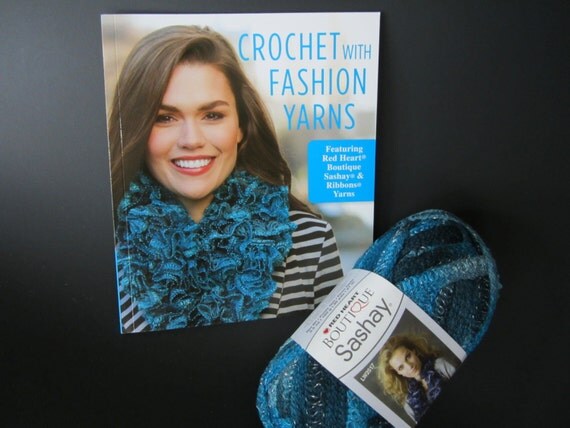 This kit includes a brand new pattern book, "Crochet with Fashion Yarns", and one ball of Sashay yarn in Jive color to get you started. Which is a multi blue color with a touch of silver. This book includes over 10 patterns and is 48 pages long. Plus there is a section in the beginning of the book that explains how to work with these lovely specialty yarns.

One really nice thing about this book is that you not only learn how to make ruffled scarfs, but some patterns also use other yarns in the projects as well. Which makes the Sashay styles of yarn really stand out beautifully in your finished project!

Sashay yarns are a unique kind of yarn with a touch of metallic. They create beautiful ruffle scarves and other things. And with the included book you can learn how to make some amazing new accessories!
For more info
click here
to see my listing on Etsy.