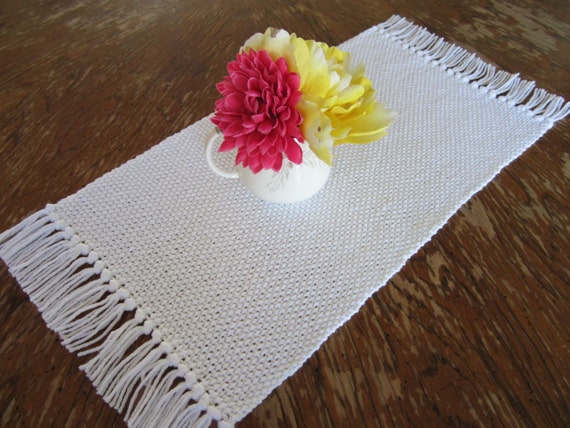 This table runner is hand woven in a lovely rustic design. I love weaving and take great care with my woven projects. This table runner would add a lovely country touch wherever it is used. And it is such a great size, with the woven body being about 18 inches long by 10 and a half inches wide. Plus it has approximately 2 inches of fringe on each end. It is long enough that it makes a great center piece runner, but not so long that it could get in the way like a really long one could. And it is made from 100% pure cotton yarn.

It is done in a lovely pure white color. Which makes it perfect for going with whatever color decor you are doing your table in. It would be wonderful for using on your dining table or coffee table. Or anywhere else you would like a touch of rustic charm. It would be a great gift for yourself or for someone you know who loves hand made treasures.
For more pictures and info
click here
to see my listing on Etsy.